Indoor air quality is something you've probably heard about. Is indoor air quality just a buzz word used to extract more money out of your wallet? The answer is no. Indoor air quality (IAQ) products can actually work miracles for the health and comfort of your home.
Modern homes are built to be energy efficient, but this in turn traps pollutants inside to be recycled over and over by your heating and cooling system. What pollutants are we talking about? Toxins from paint, household cleaners, finishing products, pet dander, viruses and mold. There are more, but you get the idea. The good news is that we provide Ventura indoor air quality solutions to protect, clean and refresh your indoor air.
The important thing to understand about IAQ products is that they are not mutually exclusive. A ventilator has a distinct purpose, and cannot perform the job of a humidifier, or an advanced air cleaner. Read about IAQ products below, or call Reed Mechanical today at (805) 768-6824 for more information. We are a trusted heating and air conditioning contractor for the greater Ojai Valley, Santa Barbara and Ventura areas.
1. Advanced Air Cleaner
Indoor air quality solutions begin with a Ventura air cleaner that is able to filter microscopic particles from the air. Air pulled from the home is sent through a filter before it enters your HVAC system. The York air cleaner is able to filter out microscopic particles from your air. The effectiveness of an air cleaner is measured with a MERV rating.
2. UV Lamp
Sometimes the purpose of a UV lamp is misunderstood. A UV lamp performs one function very effectively: they kill mold that can grow inside the indoor coil system. An evaporator coil or fan coil has a dark, damp interior when cooling in the summer. This is a breeding ground for mold. If mold grows it can get into your air, and decrease the efficiency of your air conditioning. A UV Lamp kills this mold, and protects your air.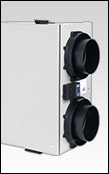 3. Ventilator
An energy recovery ventilator is truly a piece of art. A ventilator is able to take outside air and exchange it with inside air, while transferring the heat energy. It's like opening a window in the middle of a cold winter without having a heavy impact on your utility bills. A ventilator is a key component to IAQ, and keeps the air fresh inside your home.
4. Whole House Humidifier
Winter air is dry which makes your house seem colder. Dry air can hurt wood furniture and instruments, and cause other discomforts like dry skin. A whole house humidifier plugs into your HVAC system, and replenishes the humidity in your home. You will be more comfortable, and spend less money on your heating bills!
For additional information, call the leader in
Ventura HVAC service
at (805) 768-6824. We also service
Santa Barbara
and the greater Ojai Valley area.