Call us at (805) 768-6824 for immediate assistance, or use the form below & we will contact you as soon as possible during normal business hours.
An Ojai AC Installation Company
We're glad you found our website. If gain anything from your brief visit here it should be this: the manner in which your Ojai AC installation is performed will have a drastic affect on your bank account.

Trust us on that. We've heard the stories - too many homeowners trust a few online reviews, or a rock bottom price, and pay hundreds to thousands of extra dollars to fix a botched air conditioner installation. You don't want to go through such an inconvenience and exhausting expense.

Reed Mechanical Services Inc. is a trusted Ojai AC installation company. For an AC installation done right, trust Reed Mechanical. You will not be disappointed!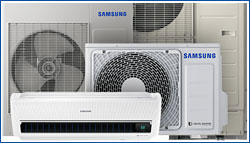 Samsung Ductless Air Conditioning
Ductless air conditioning has come a long way in the last decade. Now you can have a ductless mini-split system with extremely high efficiency ratings, and whisper quiet performance. Gone are the days of energy sucking space heaters, or loud window unit air conditioners. With Samsung ductless heating and cooling you can finally have the comfort and efficiency you've been looking for in rooms, offices and additions that do not have access to traditional ductwork.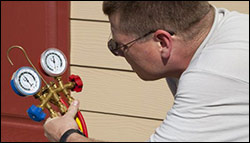 Ojai Air Conditioner Repair
There isn't much worse than an A/C repair need in the middle of a hot California summer. Reed Mechanical provides fast response, and accurate troubleshooting. Our industry experience means our air conditioner repair service is done right. We protect your time and money by fixing only what needs fixing. Avoid the extra expense that can come with an inexperienced contractor who replaces equipment that isn't part of the problem. Trust Reed Mechanical for air conditioner repair done right! Read more:
Air conditioning repair
Thank you for your interest in
Ojai AC installation
and
air conditioner repair
service from Reed Mechanical Systems Inc! We know that once you experience our courteous technicians, and quality solutions, you'll be telling your family and friends! Call today at (805) 768-6824.
*As a local NATE certified
AC company
, we service all makes and models of equipment.