Ventura Ductless Air Conditioning
A traditional air conditioning system is called a split system. Part of the equipment (the air conditioner or heat pump) is located outside, and the other equipment (air handler or furnace) is located inside. The inside equipment is attached to ductwork that is responsible for distributing conditioned air throughout the home.

Our Ventura ductless air conditioning installations follow this split system design, but are called mini-splits because they are smaller, single area focused solutions.

The advantages of a mini-split system are many. They are ideal for offices, building lobbies, additions and zoning. Samsung mini-splits can have cooling efficiency ratings all of the way up to 26 SEER! This knocks their big brothers right out of the competition. You can also have a heat pump model installed to provide warm air during our winter season.

Ductless mini-splits can be controlled with wireless controls, and the indoor coil/air handler can also be daisy chained to two units (called twinning) to adequately cover longer rooms and/or hallways.

We're serious about providing our customers with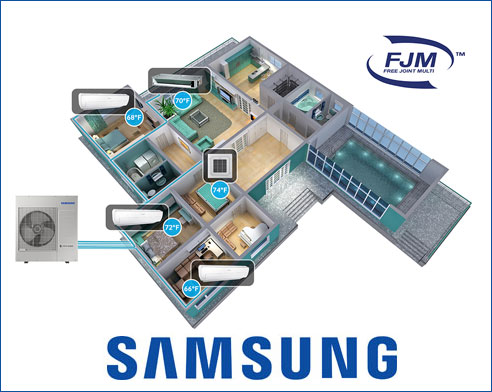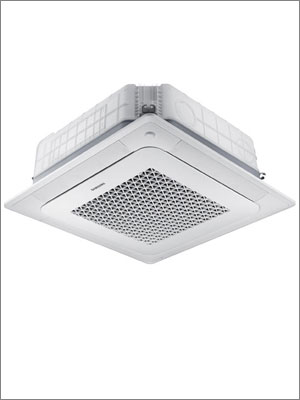 Wind-Free™ 4 Way Cassette
Maximize energy savings with Samsung's Wind-Free ™* Mini 4-Way Cassette and Motion Detection Sensor (MDS). This sensor will automatically turn off or change the set temperature based on room occupancy, and learn occupancy patterns to reduce run time between occupied and unoccupied times. Use of MDS is optional. Sensor sold separately.
*The Wind-Free™ unit delivers an air current that is under 0.15 m/s while in Wind-Free™ mode. Air velocity that is below 0.15 m/s is considered "still air" as defined by ASHRAE 55-2013 (American Society of Heating, Refrigerating, and Air-Conditioning Engineers).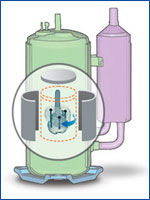 Inverter Driven Compressor
Each Samsung air conditioning system is powered by a variable speed Samsung inverter driven compressor. The variable speed control allows the compressor to operate at precisely the speed needed to generate the cooling and heating your home needs, resulting in increased effciency, reduced wear on the internal components and lower sound levels.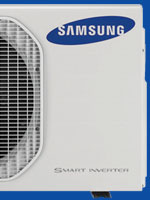 Free Joint Multi
This multi-zone residential and light commercial system offers three different indoor units to choose from and multiple control options. With minimal installation space, it's a flexible option for homes or offices with many rooms. The Free Joint Multi (FJM) unit supports 2 to 5 indoor units for multi-zone control with one outdoor unit.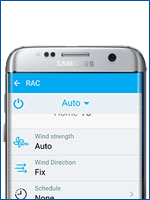 Wireless Remote Controller
There are many different ways to control Samsung residential systems. The wireless remote controller is included with some systems at no extra charge. For applications where a wireless control is not acceptable (i.e. public facilities), two wired controllers, Standard and Premium, are available to purchase as an option.
We appreciate your interest in ductless mini-split solutions from Reed Mechanical. We are confident that once you experience our level of expertise and quality customer service, you'll not want to use anyone else for your indoor comfort control needs.