Santa Barbara Ductless Air Conditioning
If you own a condo or home nestled right on the beach, then you're one of the luckier residents of our town! Travel inland and things heat up pretty quickly. Reed Mechanical Systems is a local HVAC contractor specialized in helping home and business owners stay comfortable with reliable, efficient solutions.

Santa Barbara ductless air conditioning is something we are proud to offer using the innovation found in Mitsubishi ductless products. If you have an addition, office, apartment or even wine tasting room that doesn't have access to ducting or a normal indoor comfort system, we have great news for you! No longer must you depend on noisy window or floor units to stay comfortable. Our Santa Barbara ductless air conditioning and heating solutions bring the efficiency and comfort of the big systems, in a small "mini-split" package.

These systems work the same way their big brothers do. With a ductless heat pump, for example, the outdoor units pulls heat energy from the air and uses this to heat refrigerant which is then pumped inside to the wall, floor or ceiling mounted unit. Cool air is pulled from the room, heated, and then quietly pushed back into the room. Our customers love our Santa Barbara ductless air conditioning and heating solutions, and we know you will too! Reed Mechanical is a Mitsubishi Diamond Contractor, ready to enhance your indoor comfort!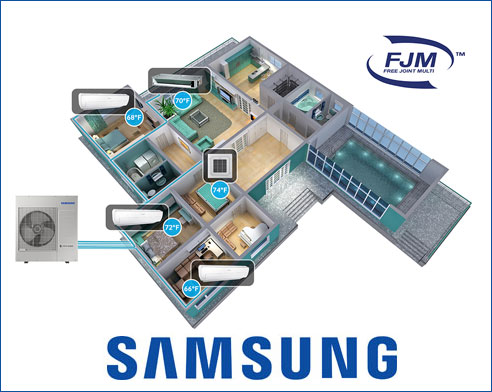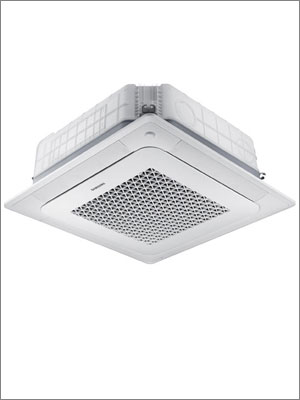 A Variety of Indoor Options
Reed Mechanical isn't into cookie cutter comfort solutions. Each customer need is unique and different. When it comes to our Santa Barbara ductless air conditioning products, we offer floor mounted, ceiling recessed and wall mounted air handlers to adapt to any type of requirement. These quality air handlers operate with powerful yet quiet performance to bring an unexpected level of comfort to your living space.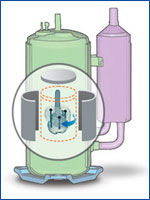 Mitsubishi i-See® Technology
If you want an exceptional read on indoor temperature, consider the optional i-See sensor from Mitsubishi. The sensor mounts on the indoor air handler, and take temperature samples every five seconds using a full sweep of the room. This yields a more accurate read as to what people are really feeling in the room, as opposed to sampling the temperature from one area, and using that to dictate the entire room's comfort.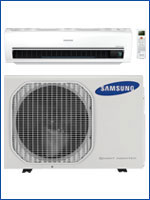 Outdoor Units
The outdoor unit is responsible for the transfer of heat energy. An air conditioner compresses the refrigerant, which dissipates heat energy into the air, thus chilling the refrigerant. A heat pump can do this, while also reversing the process by absorbing heat energy from the outside air. Mitsubishi outdoor units are highly efficient with cooling efficiency hitting all of the way up to 26 SEER!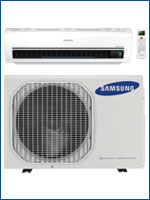 Twinning
When we said we are into cookie cutter Santa Barbara ductless air conditioning and heating, we meant it. What's twinning? It's a way to run more than one indoor unit off of the same A/C or heat pump located outside. If you have a long room, office or hallway, you can still use a ductless solution to keep the temperature right where you want it. Or maybe you have more than one room and want to implement zoning? This you can do with our ductless solutions!
Modern indoor comfort control products are exciting! From 7-day programmable thermostats with remote smart phone access to energy recovery ventilators to high efficiency cooling. We're a local HVAC contractor who is dedicated to innovative solutions for your home or office. Once you use Reed Mechanical Services, you'll not want to look anywhere else for your indoor comfort needs! We also offer other heating, air conditioning and air quality products and service including repair, preventative maintenance and new installations. Our North American Technical Excellence (NATE) and Mitsubisi Diamond-Contractor status exemplify our commitment to customer service and industry best solutions.